He never grew up; but he never stopped growing.
—Arthur C. Clarke, epitaph for himself

Stay curious and open to life. No matter what happens, keep learning and growing. Find what you love to do and find a way to share it with others.
—Cheerful Monk
The truth of the matter is, I'm a playful, exuberant puppy at heart. Last week I said I was feeling a bit tense so I experimented with smiling, bouncing on my jogging trampoline, and singing. I said I would tell you if I remembered to keep doing it. The answer is a resounding yes. As I mentioned in What Are Your Stress Secrets at Transforming Stress, I also experimented with laughing and dancing.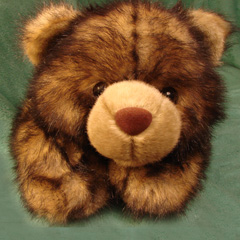 And I did talk out loud quite a bit. I got out my teddy bear (a cuddly 27″ long) and hugged, talked to and danced with him. I hadn't done that in years. It was energizing and liberating.
Yes, it was incredibly silly and non-grown-up. And I had a great time, learned a lot, and got a lot done. I'm sticking with Arthur C. Clarke. Never grow up, and never stop growing.
What about you? Do you believe in growing up, or do you, too, reap the joys of being silly? Please share your thoughts in the comments section.
---
Thanks to David, Daz, Robert, Gloria, and Shilpan for commenting on last week's post.