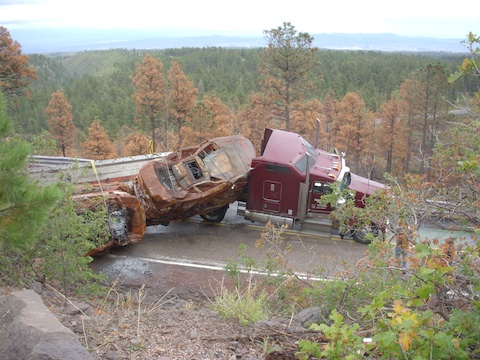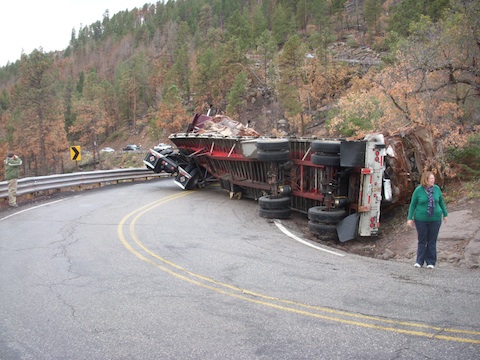 Last Thursday and Friday the road to and from the mountains was closed by semi trucks that rolled over. A company from Colorado was hauling away cars destroyed by the Las Conchas fire last summer, and apparently some of the drivers weren't used to hairpin turns. Out of four truckloads two made it, two did not. (Both drivers are fine.)
We weren't affected by the 5+ hour closure Thursday because we went to Santa Fe. But Friday Andy was stopped shortly after the accident occurred. He waited about an hour, and when it was obvious he wouldn't be allowed through for several more hours he decided to drive home the long way…a three-hour trip. It was raining but he decided if he had to do it over he would simply have parked the car and walked the 5-6 miles home. Not the least because he triggered the 7-pm rule. If he isn't home by 7 pm and hasn't called I'm supposed to organize a search party.
He had tried to phone but his cell-phone battery was dead. So when he arrived at about 7:30 I was on the porch waiting for Beate and Tim to pick me up to go up and start looking for him. (They're our closest summertime neighbors up there. They're still here because they took a sabbatical to replant and rebuild.)

Their new cabin, taken from our property.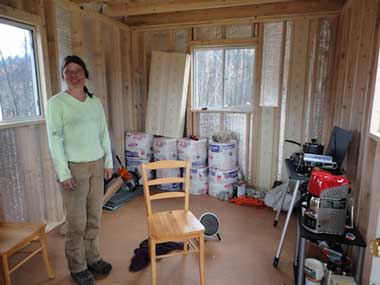 Beate in their kitchen/living room.

Needless to say I wish they lived here full time. Some of the sweetest words I've ever heard was when Beate said, "It will take us 15 minutes to get there, but wait on the porch. We're coming to pick you up."
Have you ever had neighbors like that?