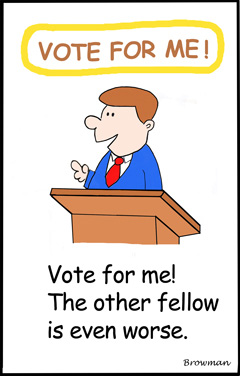 We've been lucky here. We don't watch TV or listen to the radio, so we've dodged the negative ads there. We've gotten phone calls, of course, but not as many as in the past. It does make us laugh that being on the do-not-call list doesn't protect us from political calls. The argument is that they're not selling anything. Yeah, sure. 😀
I am disturbed that political action committees are trying to take control of our state legislature and have been mailing lies about the candidates they oppose. Both sides are doing it, and the candidates don't have any say in the matter. In fact, they often don't even know about what is being sent. Both candidates running for our state House of Representatives deplore the practice, but they're helpless to stop it. Have you ever seen this sort of thing where you are?
I didn't vote for either Romney or Obama in the presidential election. (I voted for the Libertarian Gary Johnson as my "none of the above" candidate.) I'm afraid I'm as pessimistic as The Economist. They wrote:
We very much hope that whichever of these men wins office will prove our pessimism wrong. Once in the White House, maybe the Romney of the mind will become reality, cracking bipartisan deals to reshape American government, with his vice-president keeping the headbangers in the Republican Party in line. A re-elected President Obama might learn from his mistakes, clean up the White House, listen to the odd businessman and secure a legacy happier than the one he would leave after a single term. Both men have it in them to be their better selves; but the sad fact is that neither candidate has campaigned as if that is his plan.

As a result, this election offers American voters an unedifying choice. Many of The Economist's readers, especially those who run businesses in America, may well conclude that nothing could be worse than another four years of Mr Obama. We beg to differ. For all his businesslike intentions, Mr Romney has an economic plan that works only if you don't believe most of what he says. That is not a convincing pitch for a chief executive. And for all his shortcomings, Mr Obama has dragged America's economy back from the brink of disaster, and has made a decent fist of foreign policy. So this newspaper would stick with the devil it knows, and re-elect him.
What about you? Are you as pessimistic as The Economist and I are? If so which devil would you pick, or would you too vote for "none of the above"?