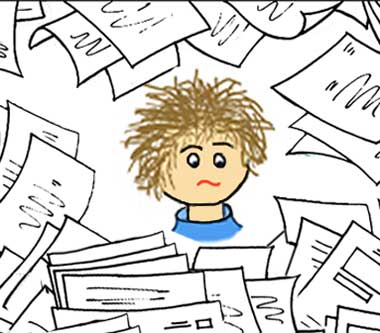 The secret of happiness is to ask yourself every day:
1) What's good about my life?
2) What needs to be done?
3) How can I get this done and enjoy the process?


One of my biggest challenges this year was to learn to enjoy organizing our gazillion photos and dealing with insurance paperwork. We'll be lucky if we have that paperwork mostly finished before it's income tax time. 🙂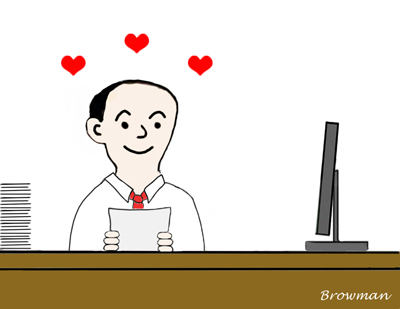 I'll never be like the fellow in the above picture–happily sitting at a desk shuffling papers, but I do enjoy working on creative problems. So I've spent hours and hours this past week figuring out a good way to handle our paperwork. I tried different ways of doing it, and by 6:45 this morning I settled on a system that has organized what we've done so far and will be easy to use in the future. I celebrated by sleeping most of the rest of the day. I have a flexible schedule that teenagers would die for. 😀
What kind of jobs do you like? In a Toastmasters meeting once I said my favorite jobs were ones that had challenging problems to solve and that gave me plenty of autonomy. One fellow in the group said his favorite job was in the military with a boss who was a stickler for detail. For instance, the stamps had to be precisely placed on the envelopes. The boss was strict, but the fellow knew exactly what he was supposed to do. What kind of jobs do you like?