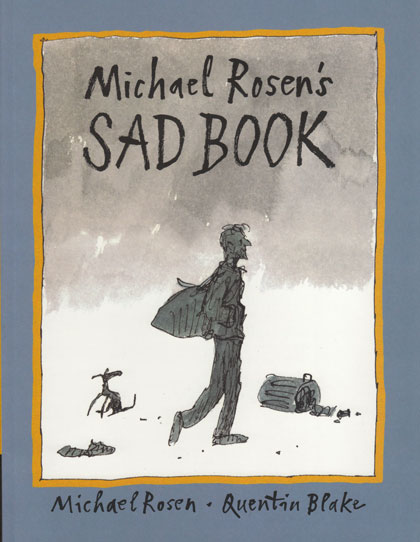 I recently bought Rosen's book because I'm a fan of Quentin Blake, the illustrator. It's a moving children's book about Rosen's sadness at the loss of his son and how he copes with it. I was especially touched that he thought to share his feelings with children.
So when I was reading about Ray Bradbury this quote by a friend of his caught my attention:
That day I learned at least two important lessons from Ray Bradbury, both directed to me as a man. Bradbury believed that it is a big mistake for men to suppress their feelings. "Mick, if you're reluctant to weep, you won't live a full and complete life." He went on, "if you're embarrassed because you have some notion about how men are supposed to behave and it doesn't include weeping, then you have some personal work to do." Bradbury told me that when he needs to cry, he goes in the bathroom, shuts the door and gets in the shower. You can cry your heart out and no one is going to hear you.

Bradbury was also a big proponent of taking some time to escape. He would take one afternoon a week. He would go to the video store and get a couple of movies. They were usually ones that had been praised or recommended, or sometimes he would just pick a couple at random. He'd make some popcorn and sit down and watch videos for a couple hours.
I agree with Bradbury on both counts, but, of course, I'm not a guy. What do you think?