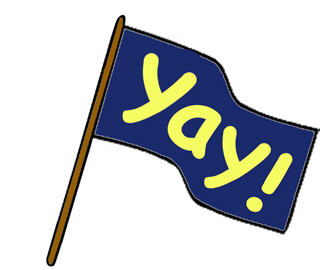 A little boy said to his father, "Let's play darts. I'll throw and you say, 'Yay, Johnnie!' "
That's one of my favorite stories because, "Yay, Jean!" is one of my favorite expressions—I use it generously. I'm sure a lot of people would think telling oneself that is silly, immature and stupid. I'll go along with the silly and immature, but stupid? No way. I use it when I've done something challenging—either because it was complicated or because it was something I didn't want to do. If I manage to do it cheerfully and even enjoy parts of the process I figure a "Yay, Jean!" is well-deserved. It's a lot better than feeling frustrated.
A recent Economist article explains how an approach like this is healthy. Researchers have known for years that a positive attitude tends to lead to physical health, now they're starting to understand how it works.
At any rate I've been telling Andy, "Yay, us!" a lot as we've been dealing with insurance paperwork. He wasn't so sure until I reminded him of his grandmother. She was about our age when she decided dealing with paperwork was too much to handle. So when checks and bills came in the mail she simply tore them up and flushed them down the toilet. Andy laughed and had to agree, we're doing a little bit better than that.
What about you? Do you praise yourself/celebrate your successes much?