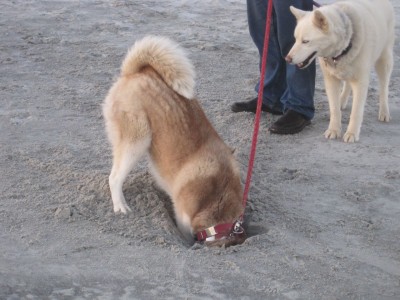 The Thundering Herd
. Used with permission.

The Thundering Herd spent the holiday at the beach. The human dad enjoyed the scenery and Cheoah immersed herself in other things.
I think of Cheoah as a kindred spirit. Scenery is fine as long as it doesn't keep me from immersing myself in my projects. Well, truth to tell, my projects don't usually involve my butt in the air and my head in the ground, but immersion it is nonetheless.
And I spend a lot of time digging for information. As I'm writing this I'm also chatting online with a Verizon representative to see if we can get Andy a cell phone that works up on the land. His old one can't get reception there, and the workmen had problems with their phones too. We're checking to see if a new one would be more powerful.
I also spent the morning doing research on satellite internet plans, and they all seem to suck be less than satisfactory. So at the moment we don't have either cell phone service or internet up there. As a consequence I've spent the past few days planning how to set up my study so it will work for occasional visits at least. On a nice day the scenery up there is beautiful, so it's well worth some effort.




Are you a project person too? What are your favorite ways of spending your time?