I've learned a lot the past few days. The new monitor I had ordered—an Apple 27″ Cinema Display— came Friday, so I spent some time reviewing how to unhook and rehook cables, etc. Then I learned the new monitor doesn't have any better resolution than my old one when I use my Macbook Pro (which I use as a desktop in my study). Who would have guessed? The display of the new monitor is spectacular with our with our desktop Mac Pro, so we're using it there.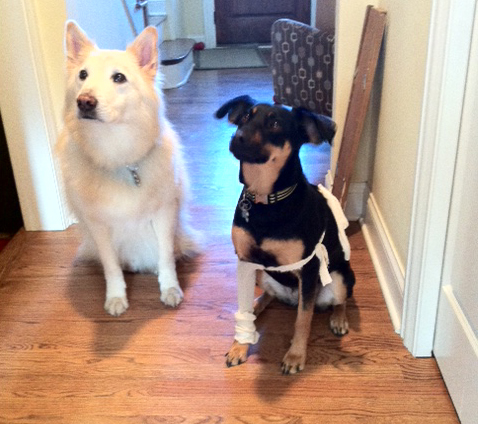 Then Kaitlin sent the above picture of Sammy and Montana with her new bandage. Montana injured a pad before Christmas and it's been slow to heal correctly. I finally had the sense to ask, why, if it's a foot pad, is the bandage on her leg? It turns out dogs have carpal pads, presumably used to help them stop when they're running. I didn't know that!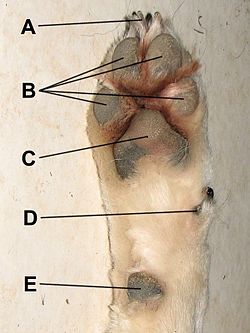 Right front paw of dog showing A) claw, B) digital pads, C) metacarpal pad, D) dew claw, E) carpal pad.
From Wikipedia.

Finally, I decided it was time to recycle my old Dell desktop computer. It's over eight years old and I haven't used it in about four. It turns out Dell makes it easy to recycle–just fill out a form with the Service (ID) Tag, print out a FedEx label, box up the computer and call FedEx to pick it up. That meant taking out my hard drive for security—easy to do thanks to the internet—and then (my choice) disassembling the hard drive so I can render it useless. That's taking quite a bit of time but it's interesting and I'm learning a lot.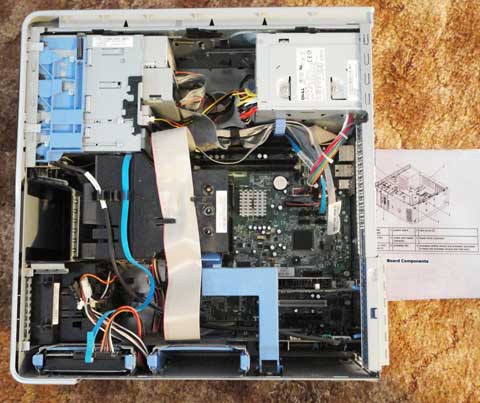 Inside of the computer.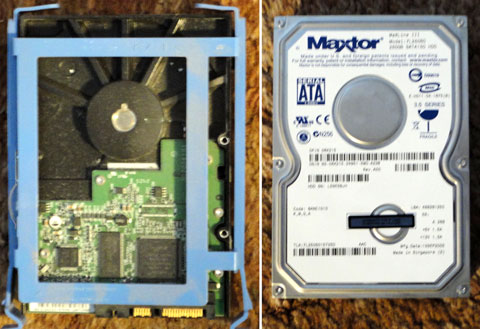 The hard drive..

Anyway, that's how I've been amusing myself. What have you been doing for fun?