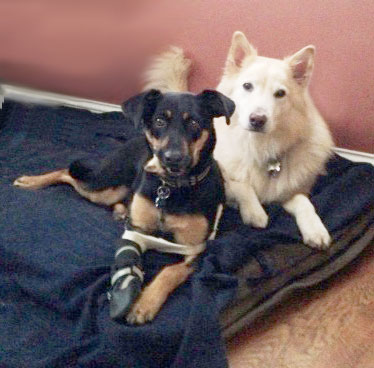 Montana's carpal pad is still not healing correctly so she will have surgery Tuesday. Wish her luck.
I'm being lazy today and am staying home from the Y. I usually go every other day to use the weight machines, but
it's cold outside–the low was about 7° F (-14° C), the high about 21° F (-6° C),
I'm fighting off a cold, and
the flu is going around.
I figured it was in everyone's best interests if I avoid crowds.
The local paper had an interesting article about avoiding the flu. In addition to getting flu shots, washing hands, and not touching one's face it also listed eating healthily, getting exercise and smiling. Apparently smiling helps boost our immune system. Hey, I can do that. 😀
Fortunately Montana is a happy pup—hopefully that will help her to heal faster from the surgery? On the other hand, she does bounce a lot…. I will keep you posted.
What's happening where you are? What's the weather like? Is your area being hit by the flu too?