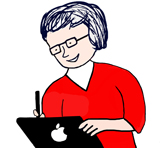 I've been seeing the term "bucket list" a lot lately, the idea being a list of things you want to do before you die ("kick the bucket"). Do you have a list like that? Are there some things that you still want to experience or accomplish?
My own list would read something like this:
(1) Continue doing what I'm doing,
(2) Appreciate what I have as long as I still have it, and
(3) Hope it lasts a good long time.
Andy and I are in our harvest years now. (He's 78 and I'm 73.) The work of the past year or so has paid off—he's cheerful and enthusiastic in the morning as he goes up to the mountains. In addition to plowing the road when needed, burning slash and planning his future fruit trees, he's designing a solar hot water system for the roof so we can eventually have radiant heating in the cottage. He's already given the preliminary plans to the architect and is starting to order the parts.
And I'm getting back to some projects I was working on before building the house and dealing with insurance receipts—learning to draw and playing with different fonts in designing graphics for my blog posts. I have a rule that I post once a week on each of my two blogs and I always have to include a picture or a graphic related to the topic. I spend a lot more time on those than I do on the words because for me they're the most important—I'm a visual thinker.
One of the main reasons I started blogging was because I wanted to learn to express myself more in pictures, and the internet was an ideal medium. It's a soul-satisfying lifelong pursuit.
No, I don't need any more items on my bucket list. How about you? Is your life soul-satisfying? Do you need to add something?