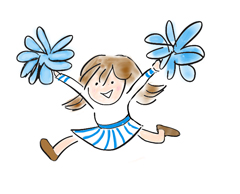 I've been seeing a lot of articles lately about healthy lifestyles. They usually mention the importance of having a lot of social interactions. In fact, that works for some people but not for everyone. The emphasis on being social no doubt reflects our society's pro-extrovert bias.
I remember an article years ago about the health benefits of being an eccentric, being centered enough to follow one's own path without worrying about social pressure to fit in, to act like others. It reminded me of Robert Louis Stevenson's quote:
To know what you prefer instead of humbly saying Amen to what the world tells you ought to prefer is to have kept your soul alive.
And it reminds me of e e cummings:
It takes courage to grow up and become who you really are.
For some people being social is who they really are so it works for them. But that's not the only way to a rich, fulfilled life.
So what are the characteristics of healthy eccentrics?
Nonconforming attitude
Idealistic
Intense curiosity
Happy obsession with a hobby or hobbies
Knew very early in his or her childhood they were different from others
Unusual living or eating habits
Strong values
Sense of humor
Do you know any eccentrics? Do you have any eccentric in you?