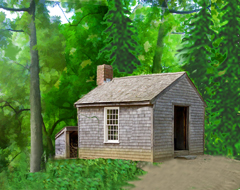 Age is no better … qualified for an instructor as youth, for it has not profited so much as it has lost. One may almost doubt if the wisest man has learned anything of absolute value by living.
—Henry David Thoreau
Thoreau had a much grimmer view of age than I did when I was younger/than I do now. I've never wished that I could go back in time. Getting older is scary at times, and I might wish that parts of my body worked better and that it wouldn't continue to age, but I think I've profited more than I've lost. I value the experiences I've had and the things I've learned — I wouldn't be willing to give them up if I had a choice of being younger again. My guess is a lot of people interested in lifelong learning feel the same way. What do you think?
Do I think that I've learned anything of "absolute value"? That I've gained some sort of wisdom? No, I'll agree with Thoreau on that. I've figured out what works for me at this point in time and am too busy enjoying it while it lasts. Just because it works for me doesn't mean it would work for someone else — we're all different and have to figure it out for ourselves. Also the term "wise" is way too stuffy for me — it's too serious. I prefer a lighter approach to life. Brian Crane, creator of Pickles, is more my kind of guy:
gocomics.com/Pickles

What about you? Would you go back in time if you could? Do you feel you have wisdom to dispense to younger people?