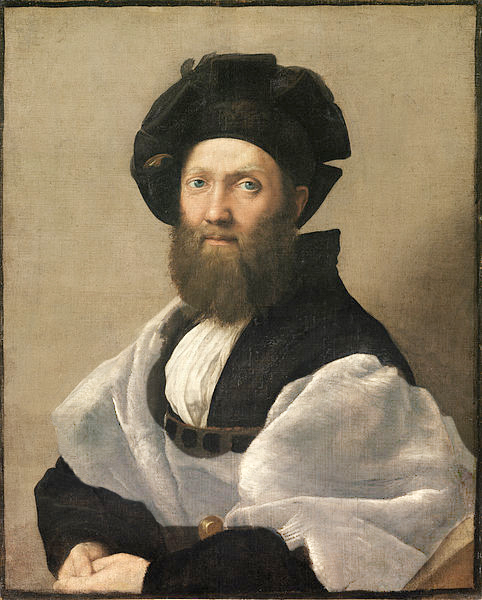 Raphael's Picture of Castiglione
What gives "The Book of the Courtier" its unique place in literature is … how pertinent so many of its pages seem in our day…. The right relation of virtue to power will always be the key political issue, and few writers in the nearly five centuries since he wrote "The Book of the Courtier" understood this more profoundly than Baldassare Castiglione.
—Joseph Epstein
Epstein's essay on Castiglione and The Book of the Courtier (published 1528) was printed in yesterday's Wall Street Journal. It grabbed my attention because it included Raphael's portrait of Castiglione, which is one of my favorite paintings.
The Book of the Courtier talks about all the attributes a good courtier needs, but the purpose shouldn't be to get close to rich and powerful rulers just for one's own selfish interests. It should be to gain influence and help those in power rule wisely. Castiglione pointed out that rulers often become proud and arrogant when they become rich and powerful. They needed virtue to restrain them and keep them from disaster.
Do you agree with Castiglione? Do you think arrogant rulers have always created disaster for themselves? Do you think advisors to the rich and powerful nowadays try to encourage virtue and wise leadership? If so, do you think they're having any luck?