Find a happy person, and you will find a project.
— Sonja Lyubomirsky
I like that quote because it's true for Andy. He's a lot happier now that he can nurture his fruit trees and plan his solar hot-water system. Presumably it's also true for Mike and Cathy, who are each busy with a number of projects. But as far as I can tell from the comments on Leisure and Flow, projects aren't the only way we keep involved in life.
The word project refers to something more organized than what I usually do. I'm more of an experimenter and explorer. For instance, when I thought of this post I thought of one of our favorite projects up on the land — building a tractor from a kit. As usual, one thing leads to another, so I looked through our pictures to see if we had a good picture of us building it. No, it was dark in the shed, so the pictures look like the one on the left below. So then I had to see what I could do with the picture, knowing full well I wouldn't like the results.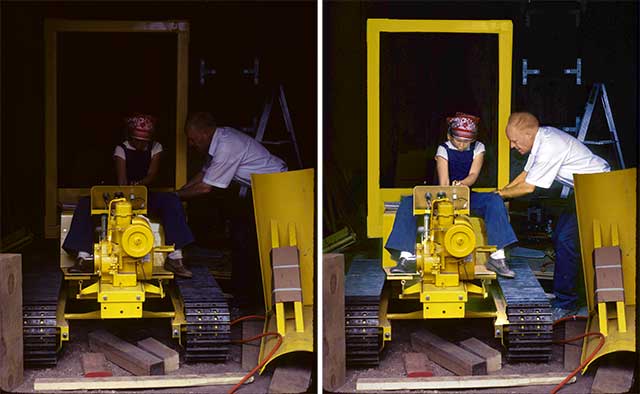 It took hours to do, and sure enough I don't like it. But I learned a lot — not just about Photoshop, but also about what artists mean when they talk about value and that colors look different depending on which colors are next to them.
Those years of doing problem sets in college are showing, I think. If you want to learn something, set up a challenging problem and try to solve it. It doesn't matter what the problem is, it's what you learn that counts. Do you ever do something like that?