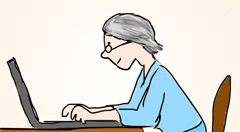 Find what you love to do, and find a way to share it with others.
— Cheerful Monk
In one of my favorite Calvin and Hobbes cartoons they're in the backyard, completely awed by the sight of all the stars. As they walk towards the house Hobbes says, "It makes you wonder why humans think they're such big screaming deals." Back in the living room Calvin cheerfully plops down in an easy chair in front of the TV and says, "That's why we have our appliances."
Appliances also come in handy when the news gets depressing. One of my favorites is usually playing with Photoshop, but at the moment I'm trying to understand a bit more about how the innards of WordPress work. I bought a couple of books for beginners with some exercises to try, so I bought a temporary domain where I can play without messing up this site.
What to call it? My first choice was "cheerfulgeek". but it turns out that was taken so I picked TheCheerfulGeek. I was amused that I wasn't the first person to associate geek with cheerful, but it makes sense. I've been helped by countless geeks on the web, including the hundreds that have built WordPress and made it stable, free and easy to use. So many of them donate their work because they love it and they're happy to share it with others. They're not chasing after big bucks and fame — why wouldn't they be cheerful and happy?
What are your "appliances"?