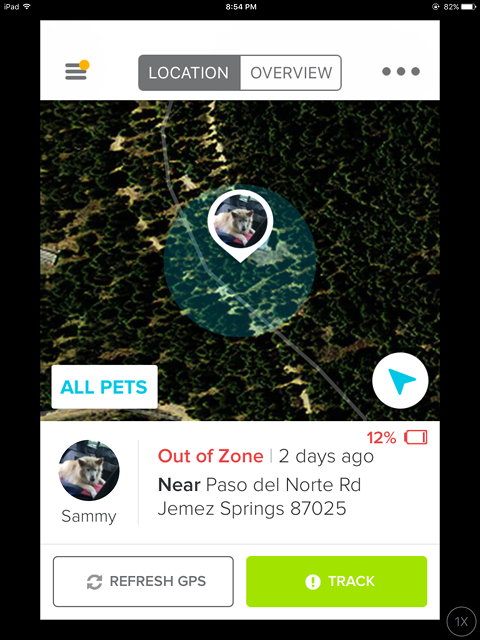 Kaitlin and Torben have Whistle pet trackers on both Sammy and Tempi. A while ago they gave me access to their account and when I was upgrading my apps on my iPad Wednesday evening I decided to see what it said about Tempi. She was already in the motel room they had reserved for the night, so they had arrived there safely. I checked in a few more times yesterday so I could see where they were and how much farther they they had to go until they were home. I thought that was exciting.
I didn't refresh Sammy's information and saw the screen in the image above. The tracker had actually worked at least once up on the land. His picture is over the Google image of our house (you can see part of the old greenhouse on the left edge).
Hmm. So I wondered if that would work often enough to be useful for us and went to their site to find out more. They have a 60-day money back guarantee, the device was on sale for $49, and it was only $9.95/month for the service, so I ordered one. We'll put it in Andy's pocket and see how reliable it is. The device connects to their server through Verizon, the phone service we have up there, so we're not holding our breaths, but it's worth checking out. I'll let you know how it all turns out.
December 30, 2016