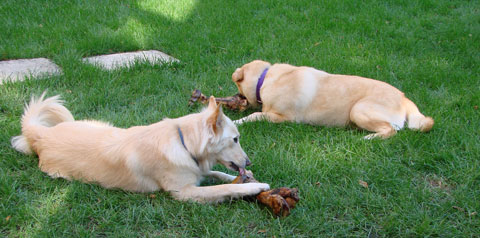 Sammy and Banshee, our granddogs, are my role models for blogging. When we visited them last year we gave them those huge bones to see what they would do. They seemed a bit overwhelmed when they first saw the bones, but then they got to work and happily gnawed away.
And that's what I'm doing with my two blogs, Transforming Stress Into Personal Power and Cheerful Monk. I jumped in, hardly knowing where to start, and have been happily gnawing away ever since.
Background: I graduated from Stanford University in physics and worked professionally as a creative problem solver, developing software for scientific research. But the basic questions of what makes people happy and how one can develop inner strength have always been a big part of my life. The question has led me to study psychosynthesis, NLP (neurolinguistic programming), the Myers-Briggs Type Indicator, the Enneagram, etc. and to teach classes and lead groups on these and related topics.
My basic philosophy is: Stay curious and open to life. No matter what happens keep learning and growing. Find what you love to do and find a way to share it with others.
That strikes me as a recipe for both happiness and stress hardiness.