Do you remember the above cartoon? This PocketFinder ad reminded me of it:
In fact most personal trackers like the PocketFinder rely on cellular service, which as we've said is a problem up on the land. So when our Whistle pet tracker came last week, I gave it a good workout. It could only locate Andy a few times, and, presumably because of the time lag, his location wasn't accurate. This picture shows where the Whistle says he was at 12:17 p.m. and where he actually was (at the house).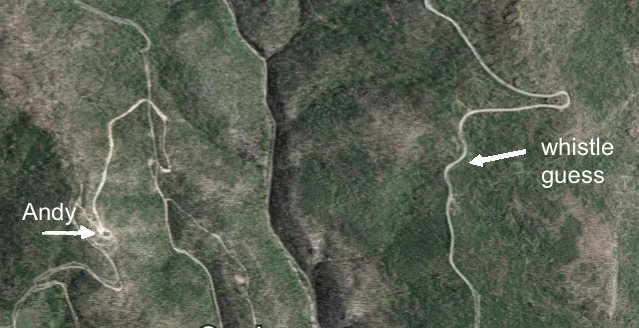 It's about a mile off as the crow flies because I didn't receive the information until Andy had driven from the Whistle spot up to the house.
Anyway, I learned a lot, and the Whistle telephone support was impressive. One representative said I could easily send it back and get a refund, but I like the company and we hadn't expected it to work well when we ordered it. (It was worth trying just in case.) Instead after we disconnect the tracker from their system I will advertise it on our local Freecycle so someone down here in town can use it. That seems like a win-win solution, and I'm happy we did it.
January 9, 2017