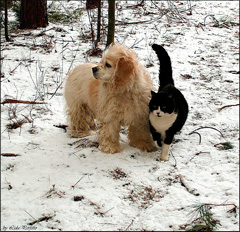 It's a magical world, Hobbes, ol' buddy…let's go exploring!
—Calvin to Hobbes

The real voyage of discovery consists not in seeking new landscapes but in having new eyes.
–Marcel Proust
2007 was a year of exploration, discovery and adventure for me, so at the moment I'm still celebrating. Oh, sure, there were dark moments, but on the whole they offered contrast rather than being a prevailing mood. So even though New Year's…making plans for personal growth…is usually my favorite time of year, in 2008 I intend to continue plugging along, doing what I'm already doing.
Mostly what I've been doing is spending a lot of time in the flow state, where I'm completely immersed in a project, forgetting about time and everything else. When I come out of it, the world always looks completely different. And what I'm especially noticing is how different today is from the world I grew up in.
For this post I'll stick to two simple examples that made me smile:
Example #1: Tracking a Shipment
Our printer/copier/fax machine has been acting flakier and flakier, so I ordered a new one as a backup. There was no hurry, but it was supposed to be delivered Thursday. It didn't come, and when I tracked it that evening it was still in transit. I assumed it would come Friday…I expected UPS to knock when they delivered it and just leave it at the front door. That's the usual procedure. I looked outside about the time they usually deliver and it still hadn't come, so I figured they were still having trouble with the Christmas/after-Christmas rush. A couple of hours later I tracked it on Amazon again and received this message: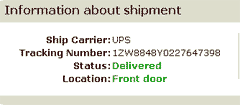 Sure enough, I looked and there it was, sitting there. That was a first for me…learning about a delivery by going online instead of getting a knock on the door. It's definitely a different world than I grew up in.
Torben, my daughter's significant other, is a University of Michigan fan. So one of my presents this year was a Wolverine clock…that alone is an example of the new world. Without the internet there is no way I could have found it from a small town in New Mexico.
Torben likes the clock, and he temporarily stood it up on the floor while he decided where to hang it. Unfortunately Hass, one of the cats, became mesmerized by it and sat there watching the minute hand go around and around. The clock is now sitting on the sofa in the cat's room so Hass can watch it more easily.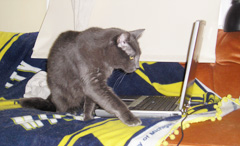 Kaitlin and Torben just had their hardwood floors redone and are still moving back in, so they can't find their camera to take a picture. But the picture on the left shows Hass watching one of his favorite cat videos on the laptop. He's a curious, intelligent animal and needs mental stimulation. Being a kindred spirit I think it's great that he's getting it.
The New Year, The New World
So my present intention is to continue trying to live my basic philosophy: Stay curious and open to life. No matter what happens keep learning and growing. Find what you love to do and find a way to share it with others. In particular I hope to continuing posting once a week on each of my two blogs, doing the writing in the flow state as much as possible. And when I come out of that state of immersion I want to see today's world with as much clarity as possible, instead of from the mental pictures I formed when I was growing up. That should be enough to keep me busy. I'll let you know how it goes.
What about you? What are your intentions for 2008? Please share your thoughts and experience in the comments section.
Dog and cat photo by Lida Rose via Flickr. Used with permission. Owner reserves all rights.
Wolverine clock photo by FansEdge.com
---
Thanks to Robert, Adebola, Ellen, Life Reflection, Adam, and bikehikebabe for commenting on the last post.

New Year's Day–Thanks to bikehikebabe for catching a typo, which I have duly corrected.