Dycem® is a non-slip, rubber-like plastic material used to stabilize surfaces. Reusable. Cut to most any size or shape with scissors. Cleans with soap and water.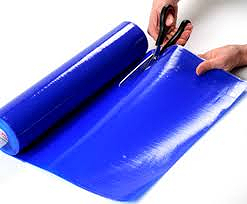 When AE and Eric came they gave us some smoked salmon and a roll of Dycem® as presents. The Dycem® does work when I open jars of applesauce. With a piece of Dycem® to help my grip on the lid I needed to whack the lid only once to break the seal. With a piece on the lid and one wrapped around the side to increase my grip there, I didn't need to whack the lid at all.
Thanks, AE and Eric!
April 22, 2019