Kaitlin sent me this email the other day:
Now we have a cheeky squirrel! I was weeding and this guy came out to tell me what's what!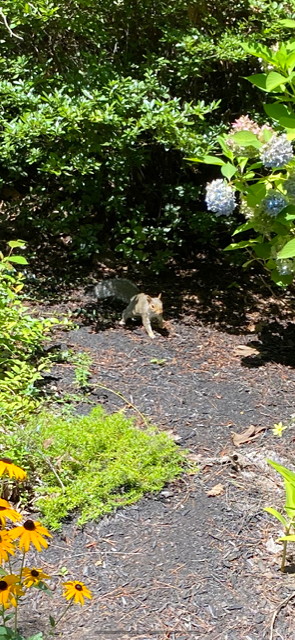 It was slowly walking towards her as she talked to it, but when she took the picture and it heard the click, it turned around and hopped away.
It wasn't as cheeky as the chipmunk, but it was clearly used to people…and used to sharing their yards.
It reminds me of a rabbit up on the land a few years ago. Andy was walking on the path down to the old greenhouse area and the rabbit was sitting on the path. Andy looked at it, and it looked at Andy while Andy kept getting closer. Finally the rabbit decided Andy wasn't going to go around it, so it hopped to the side, just off the path. When Andy came home that night he complained,
I don't get any respect up there.
Yes, It is a bit disconcerting when you don't even scare a rabbit.
August 9, 2020