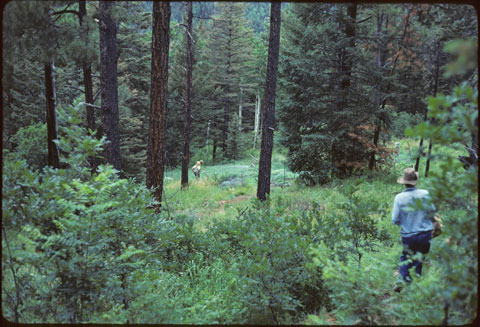 I recently read Peter Mayle's Encore Provence, and I loved his reason for not having a garden:
It would be fighting nature, and nature always wins. It has more stamina and it never stops for lunch.
Peter Mayle is a wise man. His quote reminds me of a friend of mine who said one spring:
I love this time of year! The new plants are spouting and growing…before they get eaten by the deer and beaten down by the hail.
And that was down here in town, where the elevation is only 7200 feet.
So I suppose some people would call our garden in the woods, at an elevation of 8800 feet, an exercise in foolishness. The picture above shows me walking down the path to the garden. The figures slightly to the left of center are Kaitlin and (probably) Andy looking at the garden.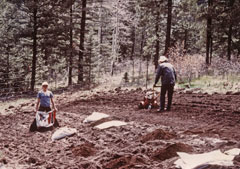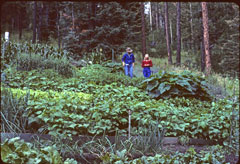 In fact, it was a fun adventure and we were successful for a while. We carefully hauled down sacks and sacks of sterilized manure each year and rototilled them into the soil. And we did produce some lush cold-weather crops…crops that needed more warmth didn't do as well. We harvested most of our tomatoes after the first snow flurries, while they were still green.
Unfortunately just growing crops isn't enough.

Animals Don't Understand Sharing
There are a lot more animals than humans up there. Now we didn't mind sharing. We thought it was cute when we saw a pile of pea pods, neatly stripped of the peas, under the leafy protection of Kaitlin's pumpkin plant. We didn't even mind the ground squirrel chattering at us when we stayed in "his" garden too long. But he eventually ignored us and came in to harvest even though we were there. (We tried two different fences, but they couldn't keep him out.) It did bother us when we were admiring our handiwork and saw a wheat stalk topple over in front of our eyes, And the last straw was when we watched a bean plant disappear into the soil, to be replaced by a gopher hole.
Andy's solution was to set traps and kill the animals, but I didn't care about the produce as much as watching the plants grow. And killing animals does not make my little corner of the world a friendlier place.
The Greenhouse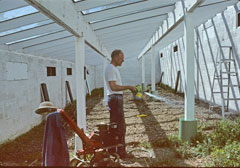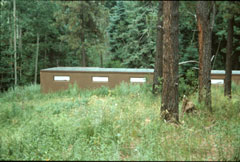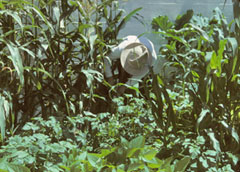 Andy had always dreamed of having a greenhouse, so we decided to spend the money and have one built. The garden was about 30 feet by 50 feet, and the greenhouse is 25 feet by 75 feet… big enough to do some good.
The walls are cinderblock and the roof glass. The left wall in the picture of the inside is about 7 feet high, the one on the right 9 feet high.
The second snapshot shows how the higher wall is nestled into the slope of the land to conserve heat.
We asked the contractor to save all the precious soil we had laboriously built up, but he forgot. It ended up buried under the concrete porch. So we built up more soil by growing "green manure", crops that nurture the soil when rototilled in. It didn't take long before we producing good crops again.
We had several years of bountiful harvests before the drought hit and our well couldn't produce enough water for the plants. My husband has great hopes that the drought will eventually end, but I'm relaxed either way. I'm glad we did it, but I'm happy to move on.
A Waste of Time?
Was our garden in the woods a waste of time and money? Were we foolish to do it? Not in my book. For me growing a garden is like raising a child, I do it for the joy of being involved and watching things grow. I do it for the process, not for the end result. When we bought the land we knew it could be devastated by forest fires at any time. The fact is, we're been lucky to have had that many good years up there. We managed to have some good harvests, but even more important we had a great shared adventure and have years of precious memories.
What About You?
Have you ever done something that other people might have thought foolish or that didn't turn out the way you had hoped? How do you feel about it? Are you more focused on productivity and achievement than in enjoying the adventure of life? Do you think the two approaches are incompatible?