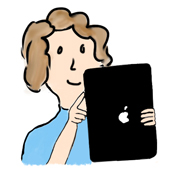 I've been playing with a lot of drawing/painting/photo apps on my iPad. My favorite is Art Studio because it lets me do a lot of the things that I can do in Photoshop, and it lets me export my work as a Photoshop file. That means I can do my initial drawing directly on my iPad instead of needing to use a mouse or graphics table on my computer. It's a lot easier. Art Studio isn't quite as good for detailed coloring so I just e-mail my work to myself and open it in Photoshop on the Mac for the final details. Art Studio cost me only $4.99 and I'm impressed!
So I was surprised at first that one reviewer gave the app a score of only 80%. One of the major objections was it has too many features and it slows productivity to have to look for them. If someone just wants to paint and has no need for the advanced features then the reviewer is correct. It makes sense to use the simplest program/app that gets the job done.
On the other hand Art Studio is a blessing for people like me who love Photoshop. The interface is different but the tools are there and it doesn't take much practice to start using them automatically.
Are you in the process of learning new skills? Do you have another form of lifelong learning? Do you have an absorbing hobby that enriches your life?