I came across the Kaye quote last week, shortly after Ursula wrote,
To me he [Jackson Pollock] and his technique is a symbol of what we all do: Throwing paint pots at the canvas of our lives.
Do you agree with Kaye? I appreciate his enthusiasm, but I don't think more paint is always better. Here's what I wound up with when I randomly "threw paint on my canvas" with my splatter brushes in Photoshop: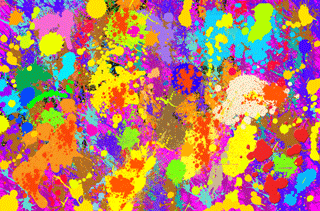 It's definitely colorful, but I wouldn't like my life to look like that. I try not to get too scattered. I don't want my life to be too narrow, but I also want my various activities to integrate with one another.
What about Ursula's quote? Certainly Pollock thought about where he was throwing his paint. If his latest splatter messed up what he already had, he would just correct it. Have you ever messed things up by adding too much/the wrong thing? If so, was it easily corrected? What's your life like right now? Are the various parts of it well integrated? Or do you have the urge to add or subtract something?