Compare this picture taken yesterday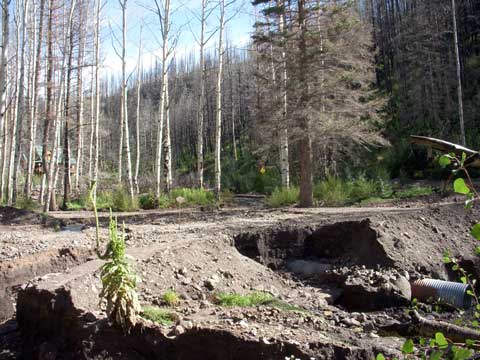 with this picture taken of the same place August 23, 2011:
As you can see, things have been worse.
A good Samaritan had his crew fix up the roads after the first flash flood, and it was clear the roads would continue to need more work after future rains. Some of the guys tried to talk Andy into buying his own equipment. He told them he had talked about that with his wife and she said,
What are you going to do when it breaks down?
I don't like the idea of you working on heavy equipment alone up there, and
You're not going to do it.
That story was good for a laugh, but it wasn't quite true. We both agreed if he had been twenty or thirty years younger it would have been fun for him to have his own backhoe. But given his age we had better pass. It was tempting, but we're still happy with our decision.
What big choices have you had to make? How have they worked out?