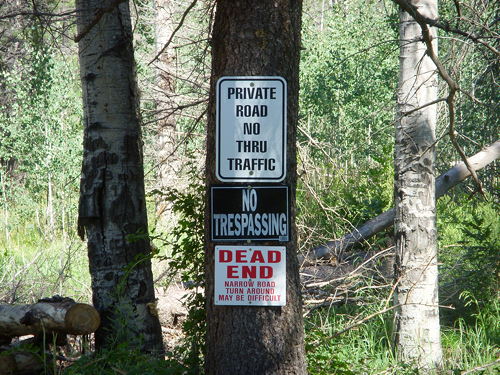 These are the signs at the entrance to Woodcutters Road. Neighbors put the top two up years ago, and Andy added the red one last year:
DEAD END
NARROW ROAD
TURN AROUND
MAY BE DIFFICULT
It used to be a through road, eventually (after 7 to 8 miles) ending at the main highway, and Andy wanted to warn people that is no longer true — the Forest Service now prevents people from going past the end of Woodcutters Road (at the north end of our property). Andy used to travel the rest of the road once a year to remove trees, rocks, etc. to keep it open as a fire exit, but now it's undriveable.
Unfortunately Sunday a fellow either didn't see the sign or else chose to trust his memory/mental picture of how it used to be. He drove with his wife up Woodcutters Road until he was stopped by a tree across the road and had trouble backing up.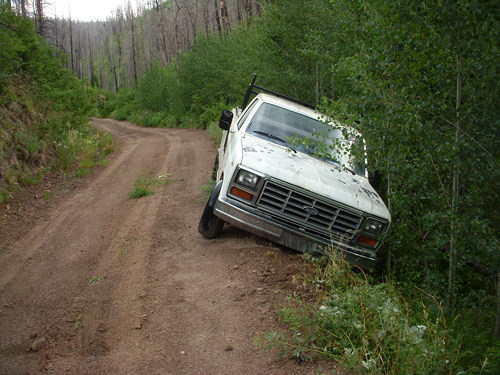 Andy met the couple as he was driving up from the Sunday walk in the Valles Caldera Preserve. The couple had already walked about four miles and had been trying to phone for help using their cell phones. Lots of luck with that! Anyway, Andy was happy to help but could take only one passenger in his Jeep.
Fortunately a neighbor came by with a passenger car, so all four of them drove back to the stuck car to see if Andy could pull it out with a winch. No way! So they continued up Woodcutters Road to the fallen tree, Andy got out his saw and cleared the road, then they drove up to a good turnaround place. Andy went on to the house and the neighbor took the couple to the Valles visitor center where they could phone a friend with equipment to pull their car back on the road.
Just another example of how we can't always believe what we think and that it's a good idea to update our mental pictures of the world from time to time. Reality keeps changing on us!
July 11, 2017