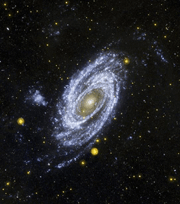 I don't know whether the universe, with its countless galaxies, stars and planets, has a deeper meaning or not, but at the very least, it is clear that we humans who live on this earth face the task of making a happy life for ourselves.
—The Dalai Lama
I like that quote because it recognizes that the universe is much larger and more complicated than our little minds can completely comprehend. A huge dose of humility is the only sane way of dealing with it. But that doesn't mean we have to be unhappy.
In fact, the Dalai Lama believes that the purpose of human life is to be happy, and that we can achieve that by being loving and compassionate to one another. Certainly love and compassion are important parts of my own happiness, but for me they're not quite enough. I also need a certain amount of challenge in my life, and I need to be using my talents and contributing in ways that engage my deepest passions.
So I'll add a bit of Joseph Campbell to my prescription for happiness:
People say that what we're all seeking is a meaning for life. I don't think that's what we're really seeking. I think that what we're seeking is an experience of being alive, so that our life experiences on the physical plane will have resonances within our own innermost being and reality….
–Joseph Campbell in "The Power of Myth"
And just how do we go about doing this? How do we uncover our "innermost being and reality"? One of the surest ways of getting in touch with our deepest selves is by free-association journal writing. If you'd like to try it for yourself, try Steve Pavlina's method of discovering your life purpose in about 20 minutes. It could be life-changing. You might just find yourself happier and more passionate about life than you could have imagined.
Picture courtesy of NASA/JPL-Caltech
---
For another view of the search for happiness, see Adam Kayce's post on the subject.