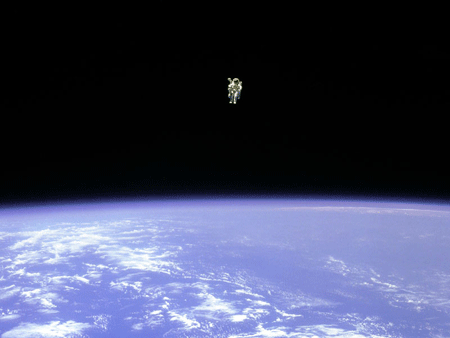 Like all of my posts, this one is presented as food for thought, and hopefully to start a conversation. Does this picture resonate with you at all? For instance, have you ever felt you looked at things differently from other people…that a part of you was alone in the universe? If so, what was your reaction? Were you frightened… depressed… exhilarated… lonely? What did you do?
The decisive question for man is:
Is he related to something infinite or not?
That is the telling question of his life.

Only if we know that the thing which truly matters is the infinite can we avoid fixing our interests upon futilities, and upon all kinds of goals which are not of real importance….

In the final analysis, we count for something only because of the essential we embody, and if we do not embody that, life is wasted.
—Carl Jung

What do you think of Jung's quote? Is the "infinite" important in your life? I've read enough biographies to know that many people lead fulfilled lives without paying much attention to the infinite. That said, it has been very important in my life. What about you?
The infinite aside, do you believe there is some essential that you embody and that your life is wasted if you don't learn to express it? If so, do you know what that essential is or are you still looking?
A Hero's Journey
The most defining moment of my life happened when I was 10 years old…I was in my 5th grade classroom, looking at a book about the origin of the solar system. I suddenly had a shift of consciousness that blew my cozy little world apart. Everything we were doing seemed suddenly insignificant in the grand cosmic scheme. There was no one to talk to about it, so it was frightening…but also exhilarating. The scary part was that I was completely alone in that part of my life…I could only look inside myself… and when I did there was nothing but a deep black hole.
I wrestled with that for a number of years and finally decided it was just another hero's journey…the hero goes off on a quest, has some trials, learns/gains something and brings it back to the community. No big deal. Once I stopped taking it too seriously I was free to enjoy the adventure.
Alone On a Desert Island
This post is responding to Alex Shalman's I'm Stuck On A Desert Island, With Just Myself. In it Alex confesses that one of his biggest fears is being completely alone, and he offers some great practical advice on how to handle solitude. His post reminded me of that incident when I was a kid, and that the deep black hole has disappeared. I no longer feel lost but at home in the universe. I'm convinced that would never have happened if I hadn't spent a lot of time alone…exploring, finding and following my own path. What about you? Do you believe you have your own special path in life? Have you found it yet? Do you feel at home in the universe?
This site is about sharing, so please tell us your thoughts in either the comments section or in your own post. I especially invite Alex, Tina, Shirley, Bob, Liara, Ellen, Derrick, Jenny, Abu, Lyman, Danny, Michelle, Jenny and Erin, David, Adam, Peter, and Galba, if anything in this post resonates with you.
---
Relevant posts:
Happiness, the Purpose of Life?
,
Waking Up to Life
,
Do What You Love
,
Live Your Own Life
,
It's a Magical World
.
---

I've been chosen to receive one of the 2007 Adultitis Antidote Awards. Thank you, Kim and Jason!