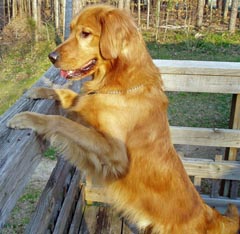 Stay curious and open to life. No matter what happens keep learning and growing. Find what you love to do and find a way to share it with others.
—The Cheerful Monk
I've just gotten back from a vacation…without even leaving home. As I mentioned in Rediscovering the Magic, I took an exercise break over the holidays. That meant buying/renting some DVDs to watch while I used my NordicTrack treadmill and jogging trampoline. It was a great success…I discovered Gilmore Girls and watched the whole series. I found it intelligent, witty and heart-warming. Watching it, plus the extra exercise, was a great way to end 2007 and to start the new year refreshed in body and spirit.
The experience reminded me that the easiest way to change our habits is to be curious and creative. I had a chance to try that this past week, when it was time to deal with an ongoing insurance issue. My usual reaction is to dread dealing with bureaucracies, to get frustrated by the "waste of time". But I wasn't about to give up that vacation feeling, so I got curious. Was there some other way to look at it? Did it really make sense to get upset about something that wasn't earth-shaking… something I had no control over? I did have a choice… I could ignore the money at stake, figuring my time was more important. Or I could keep following through and change my attitude.
How could I get this done and enjoy the process? Ah, that was a question that resonated. It was just an exercise in creative problem solving, something I love to do. So as I explained in Are You Enjoying the Process?, yesterday's post at Transforming Stress, I planned ahead and took a mini vacation during the long periods of being on hold. I also used the interactions with the agent as a chance to practice being friendly but firm.
Curious, creative and open to life. That's my new mantra. I'm mentally rehearsing it by remembering incidents in the past that didn't go as well and replaying them in my mind with more successful strategies. I want this attitude to be "down in my bones", or, more accurately, in my process memory. I want it to be there for me when I need it. I'll let you know how it goes.
What about you? Do you have some habitual patterns you would like to change? If so, how are you going about doing it? Please share your thoughts and experience in the comments section.
Picture by Daily Puppy. Used with permission.
---
Robert Hruzek at
Middle Zone Musings
is having a series on
What I Learned From 2007
. For my contribution for Cheerful Monk
click here
.
Thanks to Robert, Sterling, tNb, Adam, bikehikebabe, Life Reflection, Not Yet a Bodhisattva and Shamelle for commenting on last week's post.