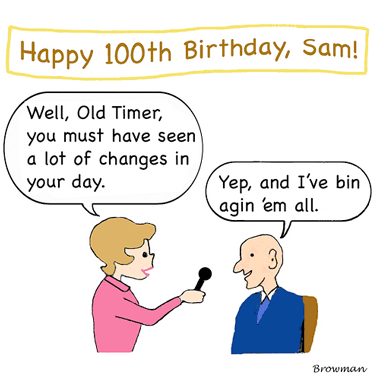 In June, 2010 I wrote
Years ago "I've been agin' 'em all" was my husband's and my favorite joke. The world has probably deteriorated even more since then, but at the moment I'm having too good a time to worry about it.
At the time I was talking about my Kindle, which is a boon to people like me with bad eyestrain. I think a lot of things in the country and in the world have deteriorated even more since that post, but I'm now subscribed to audible.com and have a wealth of books read to me via my mp3 player. How's that for luxury? And the thing that prompted this post is a new $0.99 iPad app called Digits: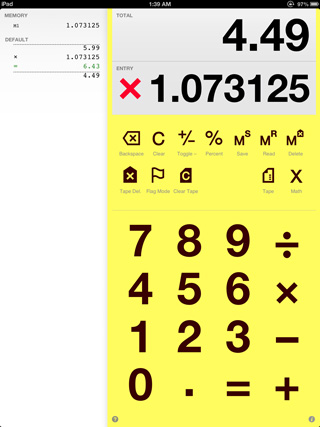 Notice the big numbers on the main pad. Another boon for my poor old eyes. But the thing that makes it special to me is the record of my calculations on the left. If I do any lengthy calculations I usually use an Excel spreadsheet so I can check to make sure I've put the correct numbers in. This little app means I don't have to fire up Excel.
Also, if I want to reuse a number I simply highlight it and pull it over into my new calculation. This is handy when I calculate the gross receipts tax on items we're replacing using our insurance from the fire. I also expect it to be useful in a couple of months when I work on the income tax.
Yes, I know. I do get excited by little things. And I know such enthusiasm isn't cool. So it's nice — thanks to The Thundering Herd — to have some kindred spirits in the world: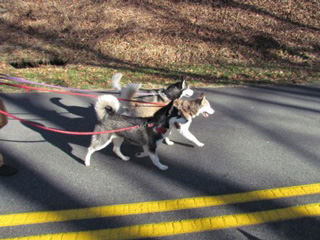 Oh, boy. Oh, boy. A walk. A walk
.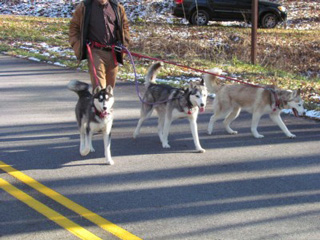 Come on, kid, we walk all the time. Act like you have done this before
.
No, I think I'll stick with being uncool. How about you?